Creol Picked Soursop
The soursop is a fruit that I like, but only rarely enjoy. A fruit native of South America, soursop is now widespread in other tropical regions (West Africa, Madagascar, Reunion, Guadeloupe, Netherlands ...). One of the first fruits introduced by Christopher Columbus in Europe, it can measure up to 30 cm long and can weigh up to 4 or 5 kg. The prickly green fruit has a white and luscious flesh with black seeds (inedible).
The soursop is rich in carbohydrates, especially fructose, and contains sizeable amounts of vitamin C, vitamin B1, and vitamin B2. Several therapeutic properties are believed to pertain to this fruit, especially to alleviate your sleep problems.
The sweet taste of soursop means that you can eat it naturally without adding sugar. It is also consume as a fruit salad, juice or sorbets and even cooked as a flan like in Indonesia. The soursop has reached maturity when you can recognize its powerful smell and rather soft skin.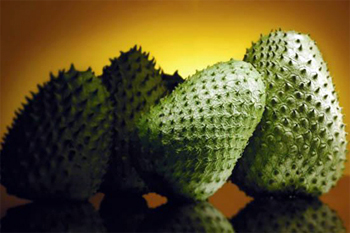 See all our Creol Picked
Browse through our favorites
For best results, you need to tame your vegetables.