Creol Picked Kitchen Equipped
The minimum for a well-equipped kitchen is to have a stove, a fridge, pots and pans. But apart from that, there are several tools, small appliances and gadgets that make life easier in the kitchen. It is not necessary to have a chef's kitchen, although there exists a basic selection that makes the difference when it' time to choose a dish to prepare or not.
To start, the following list help you meet most of your needs in the kitchen:
In addition to these, can be found on the market a plethora of other gadgets and small appliances that could make the task of cooking more enjoyable. Kitchen scales will allow you to execute recipes where you have the ingredients by weight. Timers and thermometers will be more than useful for meat and pastries. And there are many others you can find on our board Kitchen Equipped on Pinterest.
Still, one must choose good tools at a price that does not ruin us. To make a wise choice, you can rely on evaluations of other consumers. For my part, I like to refer to the product testing done on the show L'ÉPICERIE (in French) produced by Radio-Canada ).
Finally, it will be as time goes by that you will know what you need. So do not rush to buy gadgets that may gather dust. There is also the possibility to borrow from your friends and family utensils or appliances that you do not own for recipes you rarely do.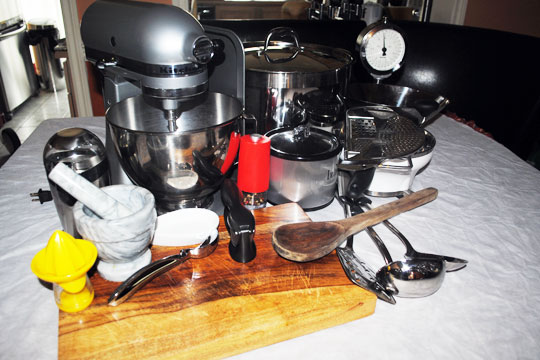 See all our Creol Picked
Browse through our favorites
For best results, you need to tame your vegetables.