Creol Picked Mortar and Pestle
One of the most indispensable tool, I think, in a kitchen is a mortar and pestle. Mortars and pestles are used to crush, grind, and mix solid substances (by trituration).  Mortars with pestles can be made in porcelain, stoneware, marble, lava rock, glass, wood, bamboo, brass, stainless steel, iron, and more. The pestle is the heavy bat-shaped part, the end of which is used for crushing and grinding. The mortar is the bowl where we place the ingredients. My first set of mortar and pestle was made of marble. I used it a lot to make drinks, cocktails and martinis. Today, I use my mortar and pestle when cooking to grind spices for marinading meat and fish, as well as mixing up guacamole or pesto. The best way to use the mortar and pestle is to turn the pestle in circular motion around the mortar, and to manipulate it bad and forth with a bit of pressure. The grinding process releases the oils, and flavour essence of the ingredients. This very ancient food processor dates back thousands of years. It has spread around the world, across cultures using material indigenous to regions where it has been discovered by archaeologists throughout times.  Italian paintings of the 15th Century show Mortars and Pestles in use by Apothecaries. The Molcajete is the Mexican version of the mortar and pestle and it dates back to Mexican pre-history in the Tehuacán Valley, as early as the discovery of our hybridized present-day corn, 6,000 years ago.
A good trick I learned to properly clean the mortar is to grind some uncooked rice after you have rinse it with boiling water. You must repeat the process several times until the rice comes out completely white. Kreyol Cuisine gives you the opportunity to win a wooden mortar and pestle. All you have to do to participate in the draw is to either leave a comment on any recipe, or Like us or Like any recipe on Facebook or finally send a recipe that is not yet published on the site with a picture. Actually you can enter as many times as you want, it will give you more chances to win. Entry is open to all until February 29th, 2012. The draw will be held on March 2nd, 2012 at 9 PM, GMT using random.org.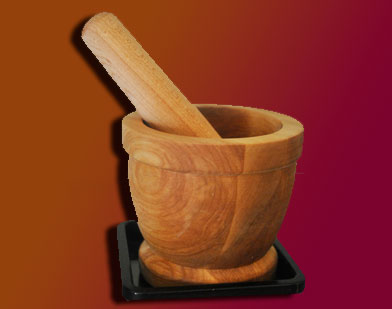 See all our Creol Picked
Browse through our favorites
For best results, you need to tame your vegetables.