Creol Picked Back to fall ...
Another summer ends! For us in North America, it has been slow to show up. But, when it finally did, I hope you were able to enjoy all the sunny days to cook on the BBQ, make picnics and especially to have fun, relax and take a few days off.
That said, during the summer holidays, the team of KreyolCuisine.com has not been idle. We were busy responding to your requests, to discover new flavors and cooking Creole recipes.
First, with our heads to the party, we offer you some cake recipes. My favorite is the cheesecake . This recipe is simple and gives a smooth result. Feel free to change the ratio of cheese to yogurt to experiment and adapt the recipe to your family's taste. You can also replace the yogurt with cottage cheese, mascarpone cheese or any other type of cheese you can cream.
Chocolate lovers will love our Caribbean chocolate cake. To think that the cocoa tree is native to Central America, chocolate cake does not hold central stage on dessert tables and buffets when we celebrate. It will only take 2 trials to master this recipe and add it to your family's deserts menu.
The carrot and sweet potato cake is sure to surprise. You will fall for the spice mixture that flavours and enhances the carrots.
In the end, our dessert section has something for every palate. And if you do not find what you are looking for, please send us an email. We will try our best to post the recipe requested.
Meanwhile satisfy your sweet tooth, Kreyol style!



Your comments and suggestions are welcomed at recipes(at)kreyolcuisine.com.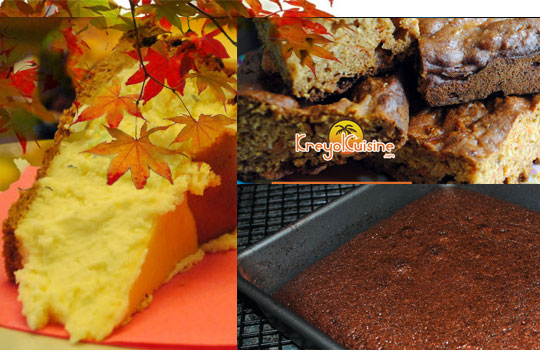 See all our Creol Picked
Browse through our favorites
For best results, you need to tame your vegetables.