Creol Picked Soup
Soup is a staple dish in every culinary traditions. Soup, pottage, or cream , this is probably the first recipe we all tried when we find ourselves outside of our mama's home. Aside from that, we all love the comfort that a good hot soup brings. This is the perfect dish to get back on one's feet from a cold or a flu. A good soup is highly appreciated specially in this cold season because it feels good and warm.
Our soup section offers an interesting selection, in expansion, easy to achieve. The suggested preparations are those that we prepare at home. The ideal is that you adjust these recipes, and make them your own. Add or replace vegetables, roots, leaves, use what you have at hand.
Originally, the soup consists of a slice of bread on which a vegetable broth is poured. So it is obvious that bread is one of the best companions of a bowl of soup. For people who own a bread machine, you only have to start the machine with the proper ingredients a few hours before you start preparing the soup. But for others, I have a very simple recipe for bread rolls. It will cost you 30 minutes of work and 2 hours for raising the dough.
Put 2 tablespoons of sugar and 2 teaspoons of yeast in 1/2 cup of water. Let stand 5 minutes, then stir until the sugar and yeast are dissolved in water.
Mix in a large bowl, 3 1/2 cup of flour and a pinch of salt. Make a well in the center to pour the yeast mixture. Add 1/2 cup of water into the hole and mix with hands. Add water as needed, by spoon, while kneading. Depending the humidity level, you can add up to 1/4 cup water. You want a firm, moist dough.
On a floured surface, knead the dough for 10 minutes until it becomes smooth and elastic. Form a ball.
Oil a large bowl and roll the ball inside to coat well with oil. Cover with a clean damp cloth and let rise for 1 hour to 1h30 in a warm place until the dough have doubled in size. Punch to deflate and let stand for another 10 minutes.
Divide the dough into 8 pieces. Roll small balls perfectly round and place on a greased and floured baking sheet. Cover with a damp cloth and let rest 10 minutes. Meanwhile, preheat oven to 425ºF. Bake in the bottom of the oven for about 25 minutes.
Wait a few minutes before dipping in your soup. But they are so delicious hot that you probably won't wait.
It is possible to prepare the rolls and freeze them prior to cooking. Put in the refrigerator to thaw and bake as needed.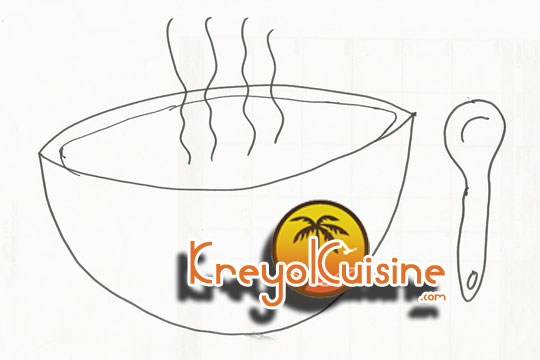 See all our Creol Picked
Browse through our favorites
For best results, you need to tame your vegetables.