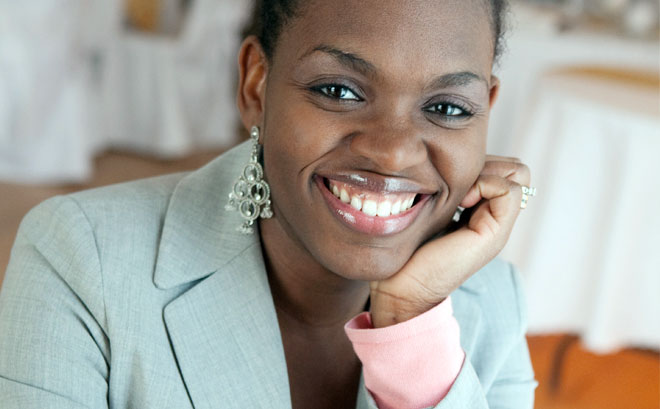 Rose-Anne Gabriel, founder of Chefanista, delivers fresh meals making life easier for her customers who have busy lifestyles and who care about their food. The Chefanista, of Haitian origin, produces all kinds of dishes following recipes that recall the flavours from around the world.
The chef, Rose-Anne Gabriel, which serves the greater Montreal area, kindly took a little time to answer Kreyol Cuisine.
What kind of experience, background, and education do you have?
I have a degree in Hotel Management and Catering from Washington State University. I worked for various luxury hotels like the Ritz-Carlton and Fairmont level management in the departments of housekeeping, front desk, reservations, banquets and catering.
Why did you choose catering as a career?
I consider the operations of my company as offering personalized chef, since we do not offer traditional service as in weddings, business and other formal events.
How long have you been a caterer?
The company exists since April 2008. We offer meals prepared for a variety of clients (singles, professionals, family, sports teams, employees).
What kind of events?
We do not events but we deliver prepared meals weekly for private functions such as birthdays and the holidays, or sports teams competing.
What are your services?
- The weekly menu
- The Pure Package (full healthy meals, breakfast, lunch, dinner)
- Menus for special events upon request (birthdays, the holidays, children's party)
- Menus for sports teams
- Gift Certificates
- Cooking classes for children
What are your most popular dishes?
The most popular dishes are: Puerto Rican lasagna, chicken potpie, and chicken strips and turkey and sweet potatoes shepperd's pie.
What's your favorite dish?
I actually have favorite ingredients: cod, avocado, coconut, sweet plantains, seafood, I'm not hard to please.
What is your least favorite?
I do not eat red meat or pork.
Can you share an event-planning tip with our readers?
The best advices for organizing an event is to plan, plan and plan again. Always have a plan before execution.
Is there a celebrity chef you admire?
One of many would Bobby Flay.
Where do you get your inspirations?
Everywhere, magazines, TV, blogs, Facebook, Pinterest, restaurants, family, friends. I find inspiration easily and in unconventional situations.
We would greatly thank Chefanista. For your next office meeting or lunch, try one of his dishes by contacting www.chefanista.com via internet, email info@chefanista.com or by phone at 514.831.4431